Patagonia Biking Hasta el fin del mundo
Hard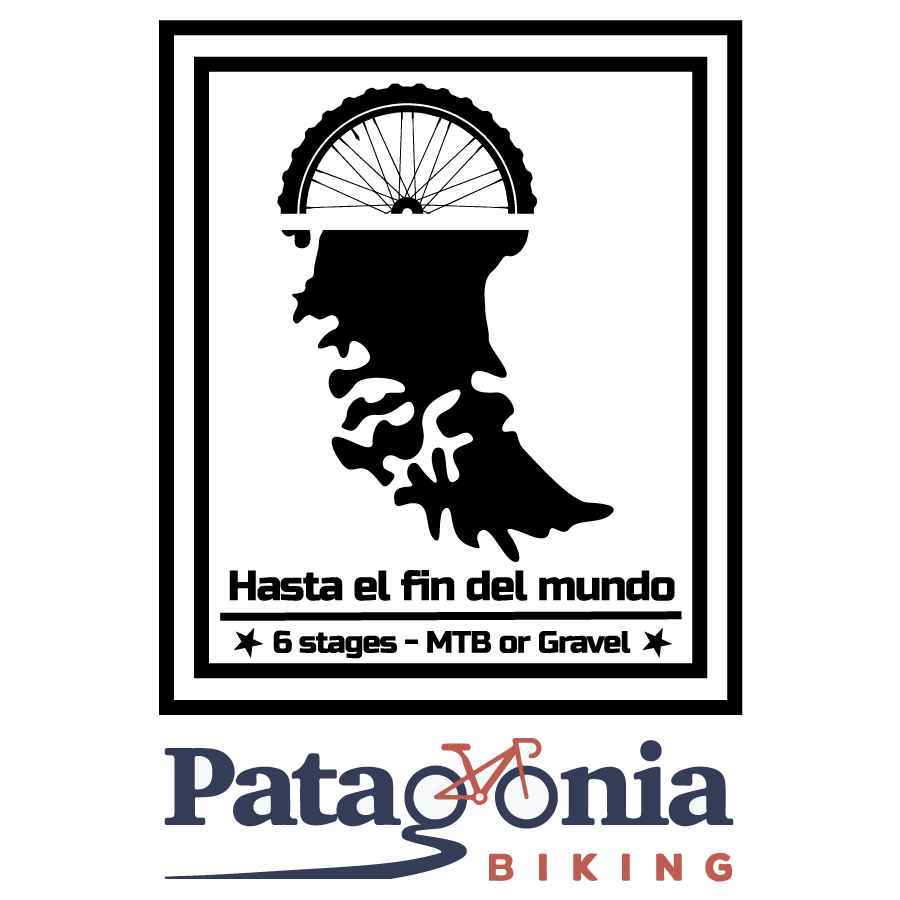 New!: a new proposal, for those who want to do intense stages in solitude or with friends, but with a service and assistance.
From El Calafate to Ushuaia, on BTT or Gravel.
"Until the end of the world": an adventure in extreme Patagonia, arriving in Ushuaia, "the city of the end of the world".
Two types of participation:
Race: 1300 km (750 km of gravel) and + 6,300 mt of elevation
Tourist: 1050 km (400km of gravel) + 5,000mt of elevation
6 stages, starting at dawn, to be completed at dusk, including the transport of personal luggage and assistance of a van.
Period: from 15 Feb 2020 to 21 Feb 2020
1st day – El Calafate:
Meeting and briefing, with illustration of the program, stages and services.
2nd day – Rio Turbio:
Tourist: – Race: 239 km (70 km of dirt road). + 1000mt (762 mt max)
3rd day – Puerto Natales:
5 km from the exit, customs to go to Chile.
Tourist: Puerto Natales: 31 km. + 300mt (617 mt max).
Race: Puerto Natales – Torres del Paine – P. Natales: 181 km (90 km, dirt road). +900 (260 m max)
4th day – Punta Arenas:
Tourist: 247 km. Difference in height + 810mt (290m max)
Race: 270 km (70 km of dirt road). Difference in height + 1265mt (300m max)
5th day – Russfin:
After sailing through the Strait of Magellan (approximately 2h and 30m) we will disembark in Porvenir in Tierra del Fuego, we will start pedaling.
Tourist: – Race: 190 km. Gravel +777mt (230m max)
6th day – Rio Grande:
In km 60 we will enter Argentina (customs).
Tourist: – Race: 134 km (15 km of asphalt). + 800mt (200 mt max)
7th day – Ushuaia:
Tourist: 215 km of asphalt. + 1300mt (425 mt max)
Race: 250 km (110 km of dirt road). + 1600mt (420 mt max)







El Calafate (Argentina). Turbio River, Pto Natales, Torres del Paine, Green River, Punta Arenas, Strait of Magellan, Porvenir, Finon, Rio Grande, Lake Yehuin, Chepelmut, Tolhuin, Lake Fagnano, Lake Escondido, Passo Garibaldi, Ushuaia.
- Race with 1300 km (750 km unpaved) and 6.300mt of elevation gain
- Tourist: with 1050 km (400 km of dirt road) and 5.000mt of height difference.
It can vary from 5 ° C to 25 ° C (we recommend a sleeping bag comfortably below 0 ° C).
We recommend a MTB with covers (semislik) or a gravel. On this trip to transport the bicycle, you can only use cardboard boxes or soft bags completely foldable.
For practical reasons, it will be advisable to have the essential elements in a single bag (maximum 90x60 cm) and reasonable measures.
Passport with a due date of no less than 6 months from the date of arrival in Argentina.
There is no mandatory vaccination. We recommend, in any case, be covered by tetanus.
BASIC service € 600, which includes:
Race number for bicycle and helmet.
7 nights in a HOTEL (shared double room)
All services BASE +
ALL service at € 1400:
Reflective stickers for bicycles and helmets.
Gpx file of the route.
Regulation.
Adhesive of the event.
Transfer of luggage in all stages.
Medal of the event.
Event beanie.
Celebrative T-Shrit.
Mechanical assistance.
Support vehicle (s).
Ferry ticket to the 4th stage of the Strait of Magellan.
7 dinners and breakfast
Airfare RETURN - El Calafate Airport / Ushuaia International Airport
Transfer El Calafate Airport to the Briefing area
Transfer from the arrival area to Ushuaia International Airport
GPS tracker
Personal insurance
Passport
Helmet and bicycle lights.
helmet.
Tools for bicycles, basic kit. (cameras, chain, inflator).
Personal insurance