Bicycle trip round the Alps, from the Adriatic Sea – Trieste to the Mediterranean Sea Nice
Hard
This route was planned to cross the mountain range from its two ends, longitudinally, joining the Adriatic Sea with the Tyrrhenian Sea. Passing through the highest mountain passes in Europe and famous for the Tour de France and Giro d'Italia. Living in this way the strong European tradition of cycling, which became world famous in these mountains. The beauty of these unique mountains can be appreciated in the high mountain stretches, close to the sky alongside icy peaks or traveling through hidden cycle paths, which like "galleries" penetrate the forest. We will pass through many interesting towns, different in their culture, architecture and gastronomy that we will have the opportunity to taste.
Variant: "Alps, from the sea of Trieste to Valtellina"
(900 km L +16.000m). Italy, Slovenia, Austria, Switzerland.
Crossing of the Alps in 9 stages, connecting famous and impressive passes, with mountains of the Dolomites and cycle paths (Alpe Adria, Drava, Lienz-San Candido, Dobbiaco-Cortina, Valvenosta).
This is a transalpine proposal that we are ready to organize on another occasion at your request
The Alps are located at the north of the Italian península. They are over 1300 km long, go across several countries with different cultures and different languages (around 25). These mountains witnessed many peoples and empires that went through and lived there. Mountains also allowed for the survival of many interesting traditions. We can find people that live differently from the country they are part of. Some of them are still nomads, taking their cattle to the mountaintops to graze in the summer and staying at lower altitude during the winter.
Geography determined that only small urban centers developed, so our itinerary goes through these villages, only some ocassional cities on the way. We will also go through sky centers, which during the summer have a large of offer of trails for MTB and trekking enthusiasts.
This trip was planned to go across the mountain range from one end to the other end, lenghtwise, connecting the Adriatic Sea to the Tyrrhenian Sea. We will go through the highest mountain crossings in Europe, and ones made famous by the Tour de France and the Giro d'Italia. We will appreciate the unique beauty of these mountains, near the sky on snowy peaks or going through hidden cycling paths that go into the Woods.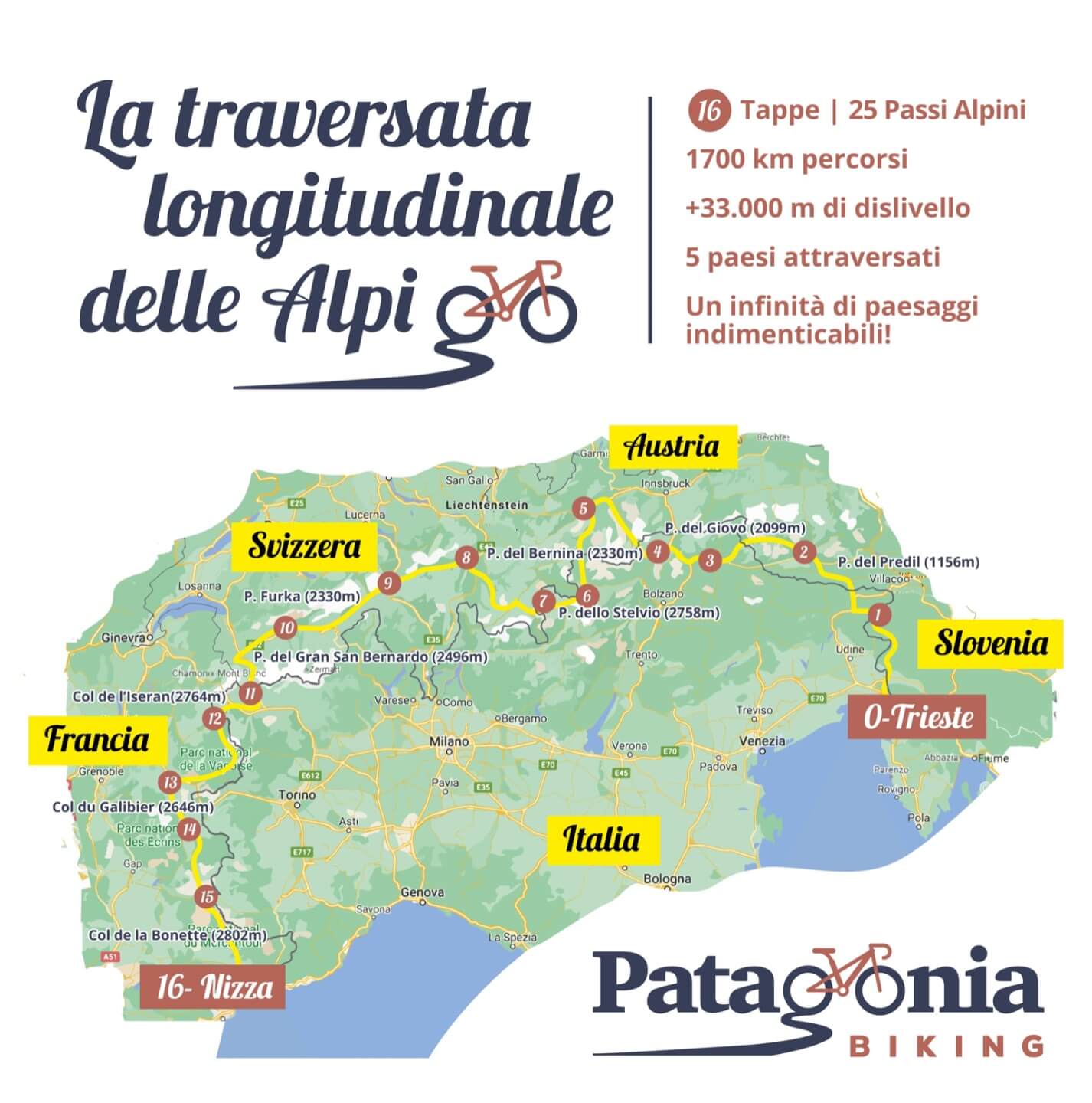 18 Sep 2021
Photos of the last travel in Bicycle trip round the Alps, from the Adriatic Sea – Trieste to the Mediterranean Sea Nice
Contact us for the travel day plan
Italy, Slovakia, Switzerland and France.
1729 km Stages:16
Accumulated ascents: 33.000 mts
medium/high. The daily average will be 110 km with an ascent of 2100 mts. At some stages there will be up to three passes on one day. We will be riding slowly, in nice long summer days. Good training and energy management will make us go through every stage without too much effort, with room for recovery for the next day. It is important to consider bad weather conditions, and cyclists should be experienced in struggling with rain and cold when riding because we can expect storms.
between 5 and 32 C. It is essential to wear adequate clothing, to adjust rhythm and to avoid getting drenched in sweat. That way we can avoid getting a cold when reaching mountain peaks.
the road is mostly paved, so we recommend a gravel bike or mountain bike with semi-slick tires –smooth but with a good grip-, or a road bike with good gears that will allow you to comfortably beat the up to 18 % level difference. The most difficult challenge will be slippery pavement during or after rain, and near some of the mountain passes where the road is in a bad shape.
It is essential that you use very strong tires with an excellent grip. It is also very important the the bicycle has a pouch to carry food, extra clothing and spare tubular.
you will get a lunch box with lunch and energy snacks.
2 guides (one on bicycle and the other one on the truck)
support truck: to carry equipment,bags.
meals: all breakfasts and 10 dinners.
lodging: 14 hotel and B&B
mandatory health insurance.
flights
lunchs. some dinners. extra beverages
Alternative outings