Pyrenees: from the Mediterranean to the Atlantic
Hard
it is a real MTB itinerary (the longest and toughest in the Iberian Peninsula), only for those able to take part in the geographical and climatic challenge of a great adventure.
This route has many attractive spots: it goes through the most representative national parks and mountain passes in the Catalan, Aragonese and Navarrese Pyrenees. We will enjoy old chapels and churches from Roman times, medieval towns, ghost towns and some megalithic ruins from the Iron Age. On this trip you will forget you are in Europe and you will completely enjoy nature and mountains in their most pure state. Mountain folklore and legends to be discovered.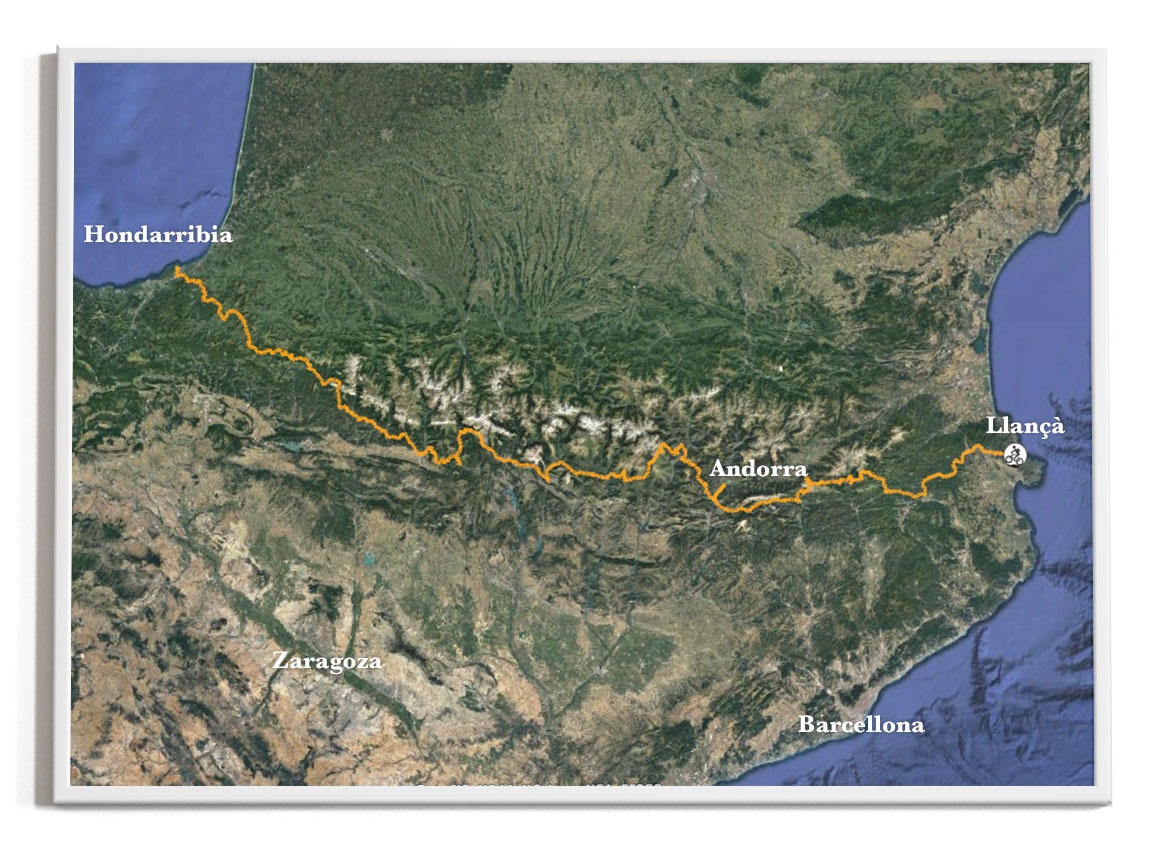 18 Aug 2019
Photos of the last travel in Pyrenees: from the Mediterranean to the Atlantic
Contact us for the travel day plan
The trip is done mostly on dirt roads that go through villages in the Catalan, Aragonese and Navarre's Pyrenees. These three areas are elevated by each other's differences, regarding scenery and also social wise. We go through some of the most important national parks and mountain passes. We will visit Albanya, Compodron, Planoles, Baga, Noves de Segre, Llavorsi, Espiu, El Pont de Suert, Senz, Sarvise, Senegue, Aragues, Isaba, Orreaga, Etxalar and Hondarribia among others. The itinerary was designed mostly by Jordi Laparra, who wrote a very good guide used for the Transpirenaica. Here you can see the tour.
980 km (about 65 % is dirt road).
medium-high This is a demanding trip, only for experienced mountain cyclotourists. They need to know how to cope with climatic changes and dirt roads. We will have plenty of sunlight, so there will be no hurry. We will make stops in order to rest and regroup. Daily riding will be about 75 km in about 7 or 9 hours including breaks.
Over 65 % is dirt road, where it is easy to get lost and essential to be in groups. 98 % of the roads have bike lanes and we will need to carry our bikes only in short sections. Sometimes the support vehicle will not be able to come with us (because of road conditions) and will carry equipment and those who need to be carried, to the hotel or the place where the stage finishes. Each rider will receive a small package with lunch and a sweet snack. Each of you must carry a small bag or backpack with spare clothes -in case there is a storm-and a basic repair kit for the MTB bicycle.
Most of the itinerary is near the mountaintops at the boundary lines, but the guide can decide to change the itinerary if he sees fit and choose an easier option.
Level difference: 23000 m. Maximum altitude in this trip is reached at the Coll de la Portella, at 2250 m. Average daily level difference (up) is 1800 m. There are about 45 ascents that go from 3 to 30 km long each in this trip. The ascents are longer in Catalunya, with a slope of about 8 %. There are some few short ascents with a slope of up to 20 % in Navarra.
it can be over 30 degrees at the lowest stretches. Mountain weather means that altitude brings lower temperature and also the possibility of storms. There can be sudden climate changes in this trip.
constant guide assistance
Support vehicle
Lodging at hotels (2 stars)
hostels
flights
transfers
bike rental
alcoholic drinks
2 dinners
extras and tips