Crossing of Italy: From the Adriatic Sea to the Tyrrhenian Sea
Easy
Pedaling in the Nature, by ways and footpaths, uniting towns of medieval origin in a unique and suggestive itinerary, that crosses: le Marche, l'Umbria, il Lazio and Tuscany.
A connection from sea to sea through history, art and spirituality, passing through unique places, with a lot of tradition and people known all over the world.

Modality "Bikepacking" New!
Without support vehicle. Each cyclist, will transport their clothes and personal items in small bootes or backpacks. The good temperature, allows cyclists, can take very light shelter elements and the load weight is minimal.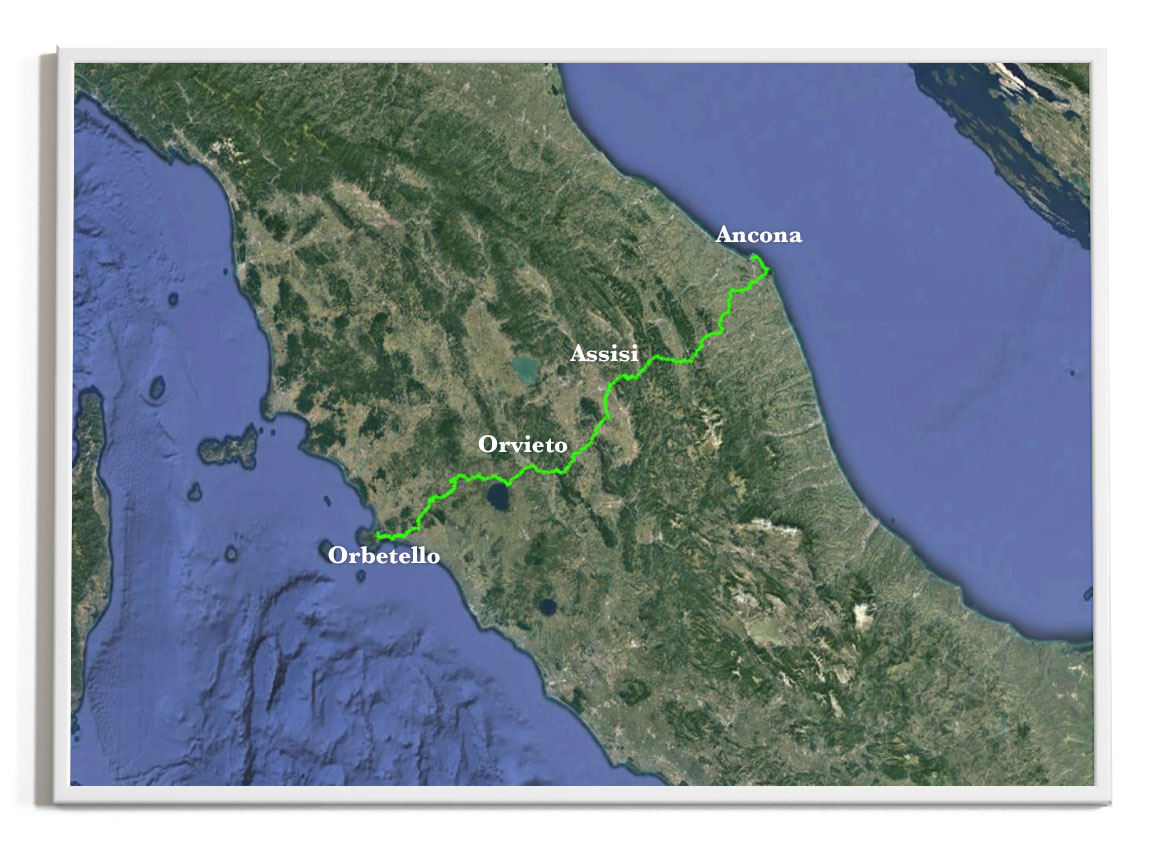 11 Oct 2020
Photos of the last travel in Crossing of Italy: From the Adriatic Sea to the Tyrrhenian Sea
1st day – Sirolo:
Meeting at the Sirolo hotel near the city of Ancona. We will try the bicycles and we will take advantage to enjoy the beaches of "La Perla del Adiatrico".
Places: Sirolo,
Accommodation: Hotel, B & B
2nd day – Filottrano:
we will ascend to Monte Conero (570msnm), from where we will have a spectacular panorama and descend through paths in the forest.
Places: Monte Conero, Osimo.
Pedaling: 60 km. Level difference: +1000.
Accommodation: Agriturismo (with pool), passing Filottrano.
3rd day – San Severino:
Stage for the campaign, alternating narrow roads, asphalt and dirt, with constant ups and downs.
Places: Treia, San Severino.
Pedaling: 45 km. Level difference: + 1050.
Accommodation: Agriturismo, close to the village tower.
4th day – Pioraco:
We will ascend for 8 kms, by dirt roads, in the forest and continue with some hills, the rest of the descent, until reaching the town of Pioraco and its old Roman bridge
Places: Pioraco.
Pedaling: 40 km. Level difference: +1100.
Accommodation: An agriturismo (with swimming pool), passing Pioraco.
5th day – Assisi:
We will cross two hills of the Apennines, making two long climbs (12 km), passing through forest areas and meadows, until reaching the famous Assisi.
Places: Nocera Umbra, Assisi.
Pedaling: 50 km. Level difference: +1250.
Accommodation: Hotel in the center of the city.
6th day – Izzalini (10 km dopo Todi):
Places: Cannara, Bevagna, Gualdo Cattaneo, Todi.
Pedaling: 63 km. Level difference: +1350.
Accommodation: castle.
7th day – Orvieto:
We start with 10 km of ascent (soft) and descend to Lake di Corbara, then ascend to Orvietto.
Places: Civitella del lago, Lago di Corbara
Pedaling: 40 km. Level difference: +800.
Accommodation: Hotel in the center of Orvietto.
8th day – Sorano: We will ascend for 12 km, stretches along paths, until we reach a panoramic point with Lake Bolsena (the largest volcanic lake in Europe).
After a short descent, the path continues through hills, passing through interesting villages and ancient monuments of Etruscan origin.
Places: Bolsena, Grotte di Castro, Onano, Vitozza.
Pedaling: 58 km. Level difference: +1150.
Accommodation: Castle.
9th day – Manciano:
We will go through interesting medieval towns of Etruscan origin and we will appreciate the interesting architecture of the constructions inside and outside the tufts. Sections of land, trails, hills and vineyards.
Places: Sovana, Pitigliano, Manciano.
Pedalinng: 43 km. Level difference: +950.
Accommodation: Agrotourism.
10th day – Orbetello:
We will descend to the Maremma, passing as always, for interesting historical relics. We will find the Tyrrhenian Sea and after crossing a path with forests and pine trees, we will find Monte Argentario.
Cycling along the lagoons and the sea, until reaching Orbetello.
End of our fantastic journey, coast to coast!
Places: Capalbio, Ansedonia and Cosa, Argentario,
Pedaling: 55 km. Level difference: +550.
Accommodation: Hotel on the beach of Gianella.
Portonovo, Assisi, Todi, Nocera Umbra, Orvieto, Sorana, Sovana, Pitigliano, Orbetello.
450 km On dirt roads, bike paths, trails and asphalt
9 stages at an average of 50 km. For dirt roads, bike paths, trails and asphalt. The daily level, average, is + 900mt, but there is a stage of + 1350mt and during the route, some short sections with a slope of 20%
During pedaling, the temperature may vary between 20 ° and 30 °
You can use a bicycle mtb or also a hybrid. Rent of the bicycle: 250 EUR.
5 people. With fewer participants the cost would increase. this information does NOT refer to the journey for charity